Because "better late than never" is one of the only mottos I'll ever swear by.
Sham Studio
are also fashionably late to the party, with the new year card 5 days overdue. Notice that the art is from B.K, who also provided MOSAIC.WAV with the jacket art to their recent C75-exclusive
こどやみ mini-album
. mi~ko lovingly refers to the character on the card as 牛子さん... new theme song confirmed?
This next one is from momoi-superfan mandi-chan, who as you all know contributed the superb artwork for this blog's banner. Thanks again! She wishes all of us a merry [
insert your own personal appellation of a December 25-related holiday
] and a happy new year (only to her LJ friends however). I can't wait to see you as a tiger next year...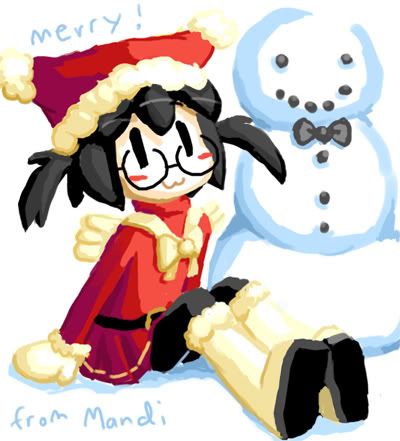 Finally, I have no art to offer (of course) but stick around this blog for another great year of denpa reporting, speculating and opining, to the best of my ability and availability. I welcome all of your (few) comments and your (numerous) emails, so let's have another great year together!